How To Take Your Fall Wardrobe to the Next Level
Every year, fashion evolves and trends change. With the arrival of autumn, it's time to transform your summer attire into a fashionable fall wardrobe. Understand how to layer pieces, choose suitable colors, and find quality clothing. Here's how you can elevate your style game for autumn. Below we delve into these elements further.
Table of Contents
Understanding the Essentials of a Fall Wardrobe
The first step in creating your fall wardrobe is understanding the essentials. Sweaters, boots, scarves, and denim are fundamental. Choose pieces that speak to your personal style and incorporate effortlessly into your daily life.
Athleisure and comfortable accessories have become significant parts of modern fashion. Therefore, add in some trendy, functional pieces, like hoodies or high-quality joggers.
Additionally, prepare for weather changes. A symbol of autumn's arrival, the women's jacket, is not just practical but can also be a fashion statement.
Remember, though fashion trends change, some classics remain timeless. Leather jackets, plaid shirts, and black booties are always in season during the fall.
Introducing Layers for a Stylish Fall Look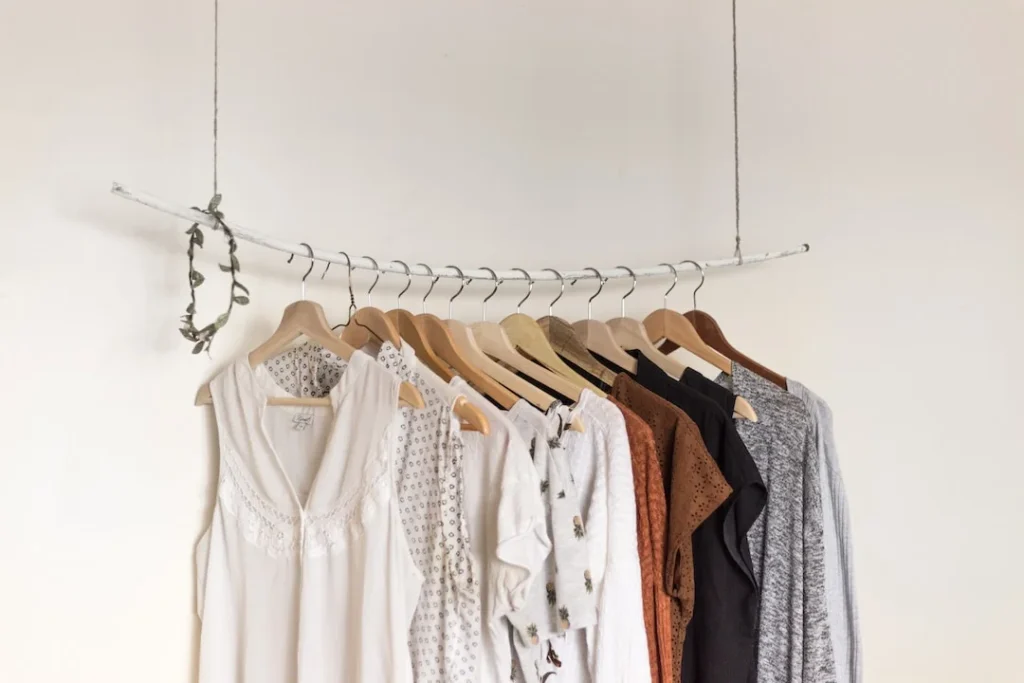 Layering is key to creating a versatile and stylish fall wardrobe. It's not just about staying warm; it's also an opportunity for creativity and showing your individual style.
Start with a base layer, like a plain tee or turtleneck. Then, add additional layers such as a flannel shirt or a sweater. You can then top it off with a fashionable coat or jacket.
The trick is balancing your outfit. Layering light pieces under thicker ones ensures a balanced look without adding unnecessary bulk.
Play with textures and materials. Combine different fabrics like cotton, wool, and silk to add depth and interest to your outfits.
Choosing the Right Colors and Patterns for Fall
Color plays a crucial role in setting the tone for your fall wardrobe. While you are free to choose any colors you like, traditional fall colors include deep reds, oranges, and browns.
Don't shy away from bright colors. They add vibrancy and contrast to the typical fall palette. A single standout piece in a bold color can elevate your entire look.
When it comes to patterns, plaid, tartan, and stripes remain fall favorites. They add intrigue to solid-colored layers and bring dynamism to outfits.
Experiment with a balance of colors and patterns that complement each other and resonate with your style sensibilities.
Key Clothing Pieces to Upgrade Your Fall Wardrobe
When shopping for fall, focus on versatile pieces and reflect the season's feel. A pair of reliable boots, a chunky knit sweater, and of course, a chic jacket are staple items.
Adding darker denim or leather pants can offer an edgy aesthetic while maintaining comfort and functionality.
Look for high-quality fabric. Invest in pieces that will not only keep you warm but will also stand the test of time.
Don't forget the accessories either. Hats, scarves, and statement jewelry can complete your fall look and give it that unique touch.
Shopping Tips and Tricks for Updating Your Fall Wardrobe
Remember quality over quantity. Instead of buying several mediocre pieces, invest in a few high-quality items that can stand the test of time. Look for sales, and don't underestimate the power of thrift stores.
Try on clothing before purchasing. This ensures the fit is right and you feel comfortable in it. Remember, if it doesn't fit right or feel right, it's not worth your money.
Nowadays, there are numerous online platforms like RW & CO. that make shopping easier. Look for detailed product descriptions, accurate sizing charts, and real customer reviews.
Lastly, stay true to your personal style. Trends come and go, but personal style is timeless. Find pieces you truly love and will continuously wear.
Altogether, finding your way in the diverse fall fashion world can be challenging. But with essential pieces, the art of layering, choosing the right colors, key clothing pieces, and smart shopping, you can create a versatile and stylish wardrobe that helps you stand out during the fall season.